Welcome to North Ullswater Churches
Services in the benefice on Sunday, February 23
Holy Communion, St Michael's, Barton, 10:00am
Morning praise, All Saints, Watermillock, 10:30am
And on Sunday, March 1
Church4All - Lynn Treneary, Mission partner working in South Sudan, St Paul's, Pooley Bridge, 10:00am
Holy Communion, St Peter's, Martindale, 10:30am
Bible study this week (Feb 19) in Tirril; next in our studies on 'Busyness'.
Please use the contact page if you would like more information about the bible study or any of our services.
Please note that for those unable to come to church, communion at home can be arranged. Please contact Alan Wright.
---
News and events
Christmas coffee morning
Thanks to all who baked / made / helped / attended the coffee morning on Saturday, November 30 in the Parkin Hall. About £900 raised.
Scaffolding at St Paul's
Repairs to the bell tower and roof renovation are complete and the scaffolding should be removed by the next service on December 15.
Summer Church4All series
Huge thank you to Alan and Veronica Wright for the Church4All series on 'Words by the Waters' each Sunday of the summer holidays at St Paul's, Pooley Bridge. Anyone who has attended will know how much effort is required for these. A reminder of the R's we have been through :
Recognise (Naaman, John the Baptist)
React (Jonah, the fishermen)
Rescue (Noah, Jesus)
Restore (Moses, Peter)
Resolve (Joshua, John the Baptist)
Respond (Moses, Peter)
Renewal and risk taking (Ezekiel, Paul)
Full house with Scout and Brigade visitors - July 28

Two groups in the Lakes for a week of activities joined us at the Church4All service this morning; great to have a full church. Continuing the 'Words by the Waters' series, Lay Reader Alan Wright noted the importance of recognising God's voice and reacting in a positive way - as risk takers rather than running away.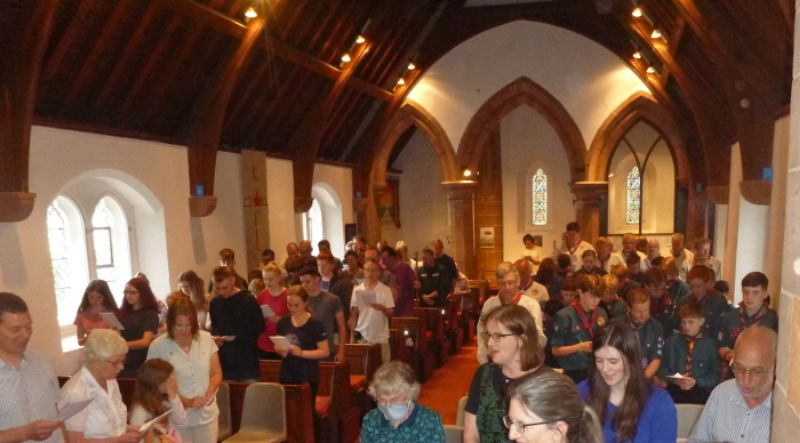 Summer Coffee morning
Nearly £1000 raised from the sale of bowls, cards, cakes, coffee etc. Thank you to everyone who attended and made things for the event.
BBQ

Thanks to Alan and Janet for hosting and to all who helped, brought food etc. It was a great afternoon.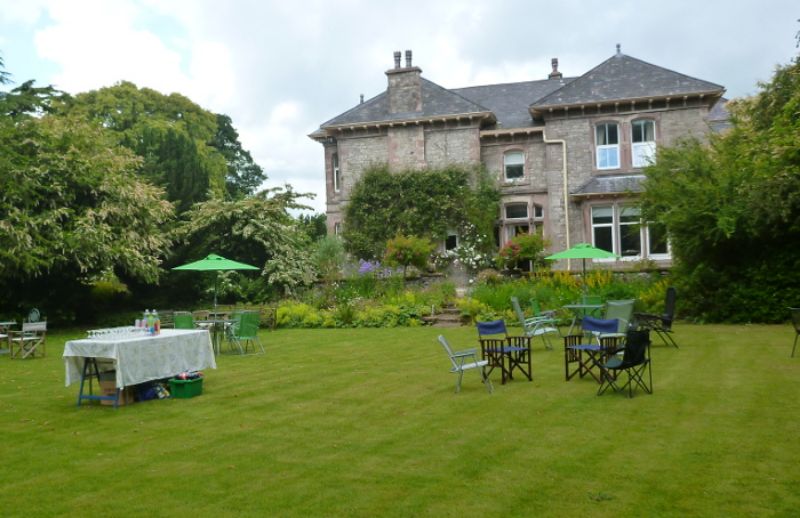 Strawberry Tea - St Michael's
Raising funds for St Michael's with delicious strawberry teas! £430.12 raised after gift aid added. Thank you to all who attended and all who worked so hard to make the event a success.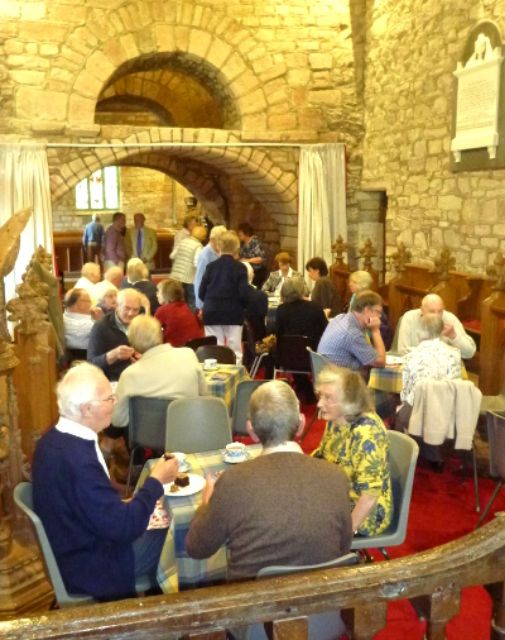 Easter Monday - World Church coffee morning
Over £2000 raised for our mission link partner in South Sudan. Thanks to everyone who supported the event.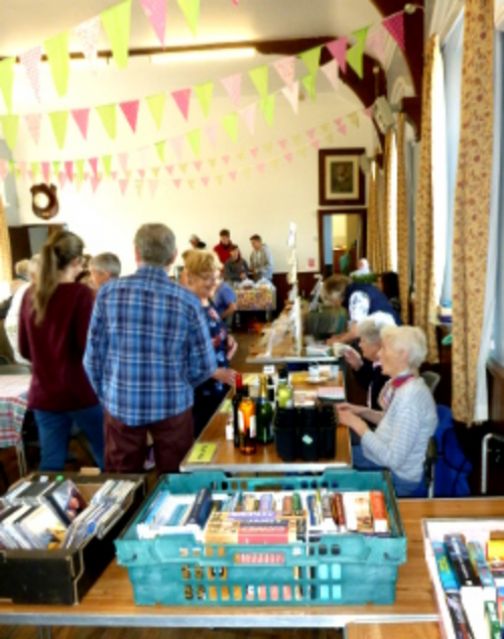 Good Friday
A short service of hymns and readings and making an Easter banner.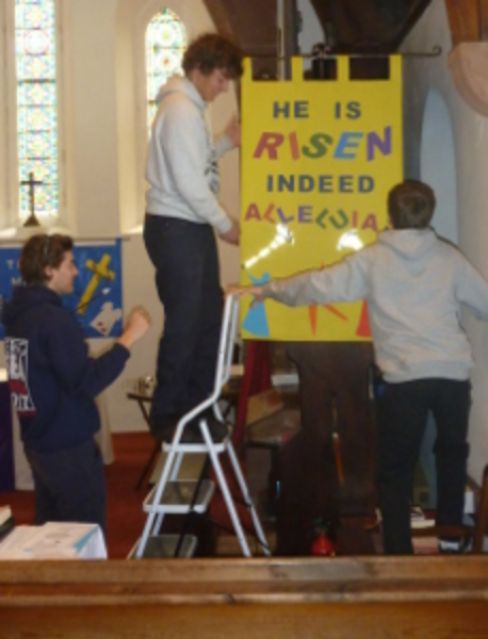 Sunday before Lent - Church4All
Thanks
Christmas carol singing at Tirril raised £282 for TEAR Fund and the Crib Service at Barton and Christingle at Pooley Bridge generated £854 for the Children's Society. Many thanks to all who supported these event and sincere appreciation to all who provided and arranged the wonderful Christmas flowers and decorations in all of our churches.
Carols, Christingles and Cakes - December 30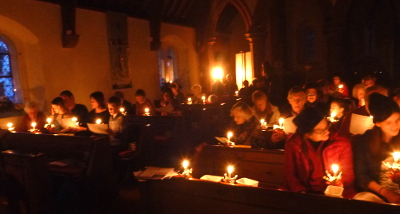 Christmas Day 2018 - Church4All in Pooley Bridge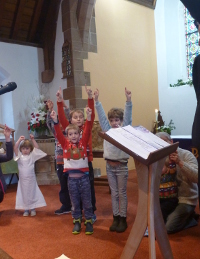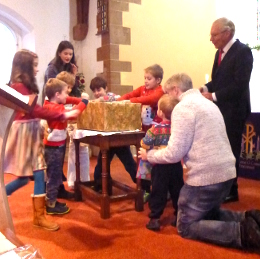 An action opening prayer led by the young people. Then they unwrapped the huge box to reveal a set of 26 Christmas crackers. The congregation pulled the crackers to reveal the letters A to Z as well as the usual cracker contents. We found Christmas words starting with each letter that lead us through the key points of Jesus' birth.
Christmas coffee morning
Thanks to all who helped with or attended our 1st December coffee morning. Total raised was £870.
Vicar's retirement peregrination
September 30th, Rev David Wood's last services in the benefice. A super day for Rev Wood and various others to walk to each of the 5 churches starting at 9am in Watermillock and ending up with a Harvest Evensong in Martindale. After the evensong everyone returned to the Parkin Hall in Pooley Bridge for a supper celebrating harvest as well as David's retirement after 13 years in the parishes.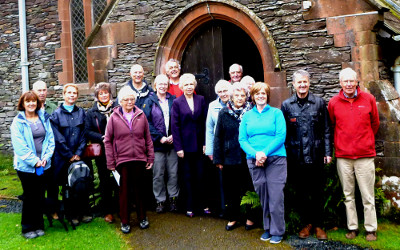 St Michael's Barton - Re-pointing work and new website
If you have passed St Michael's recently you will have noticed that the scaffolding has been removed. The new website explains the work that was carried out : https://barton-church-ullswater.uk/
St Paul's Pooley Bridge - Celebrating 150 years
Thank you to everyone who attended and / or helped with the various events held in July to mark the 150th anniversary of St Paul's Church in Pooley Bridge; keep praying that the church can play a useful and active role in the community for another 150 years!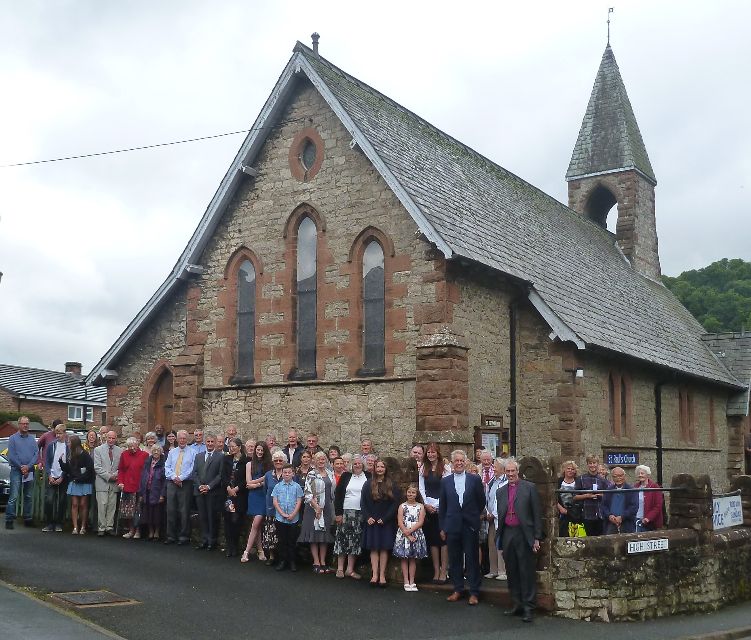 more anniversary celebration pictures
Our Parishes ...
.. the four parishes of Barton, Pooley Bridge, Martindale and Watermillock lie South-West of Penrith within easy reach of the M6 and A66 at Junction 40 as well as the West Coast main line and are grouped around the northern end of Ullswater.
We welcome ...
... everyone; special provision is made for children and young people within our monthly cycle of services and we particularly invite visitors to the area to come and join us during their holiday time in Cumbria.
We want ...
... to grow as the Lord's people in this place, recognizing the privileges and responsibilities we have in Jesus the Messiah. We are working to recognize God's gifts in one another and to utilize and develop these gifts. We believe that by His grace, God has called us to be part of the 'new heaven, new earth' plan that he has for his creation and we try to work out our part in that project.